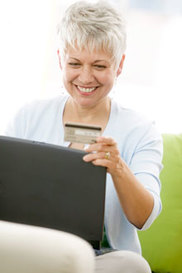 Many firms like Mary Kay, The Pampered Chef and Avon are recruiting retirees and older workers, who are looking for ways to make extra money working out of their homes to sell their products.
In most cases companies that involve direct selling require you to purchase some product for you to sell but the "starter kit" of training materials is generally not very expensive. Legitimate direct selling companies allow you to "sell back" unsold products that are in good condition if you decide this is not for you. Members of the Direct Selling Association require a payment of at least 90% of what you originally paid.
The product or service you chose to sell should be something that you yourself would use even if you are not selling it (something you fully understand and can be enthusiastic about) and you should be making money from your sales to customers—recruiting other sellers should not be the primary basis of your income.
Go to
www.Google.com
and search the term "Direct Selling" or "work from home."
Go to the
Direct Selling Association
to check any specific direct selling company.
You can also check out the examples below of top direct sales companies that offer work from home opportunities:

​You can sell these kinds of items from your home via a computer, Internet access and a telephone. Start-up costs usually run $200 or less for a "starter" kit of training materials and products.

Most sell the products through home or office parties and online sales. Earnings are commission-based-typically usually 25-40% of sales.
​
What can I earn?

Most direct sales representatives earn around $300 to $500 a month part-time and up to $1,000 or more full-time. Some extremely successful representatives make several thousand a month or more. You buy the products wholesale and sell them at retail prices.
​Other Top Direct Sales Companies Include:
*Kitchen Supplies
Nutrition/anti-aging
​Gardening
​Women's Under-garments
​Home Products
​Pet Products
Home Products/decor
​Home & Party Products
​Jewelry
​Jewelry
​Toys/Disney products
​Scrapbook/cards/crafts
​Toys/books/games
​Discount Health Plan
​(*) Whether you're looking for a little extra money to spend on your family or yourself, or you would like a chance to build a career on your own terms, becoming a Tupperware Consultant has worked well for thousands of older Americans.
​
Reach a Tupperware Consultant in your area
.
They'll set up a time to meet with you, answer your questions about becoming a Tupperware Consultant yourself and take you through the steps toward starting your own business. There is minimum investment.
For information on telemarketing jobs
​
Some of Our Other Popular Articles You May Be Interested In